Am I A Candidate?
Some candidates for breast augmentation are women who want a fuller bustline or those whose breast development simply did not meet their personal expectations. Other candidates include those women who have some asymmetry in the volume or size of their breasts, as well as those who have lost volume after weight loss, pregnancy, or the result of aging. Breast augmentation can also enhance your self-confidence and improve your appearance in certain clothing.
How Is Surgery Performed?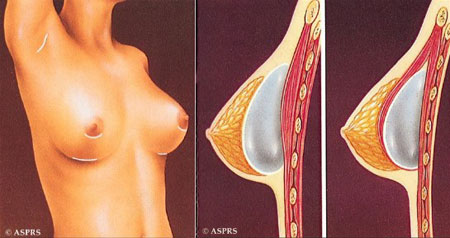 Individual factors such as body habitus, the size and shape of your breasts, as well as your personal preferences will determine the appropriate implant size and surgical approach. A small incision about one inch is usually made just above the lower breast crease. Alternative incision locations include periareolar (just inside the bottom of the dark portion near the nipple) or transaxillary (in the underarm). Through this incision, a pocket is created either directly under the breast tissue or underneath the pectoral or chest muscle. A "Dual Plane" approach is a newer technique that is sometimes utilized, depending on your personal preferences and breast shape. Dr. Lee will discuss with you the advantages and drawbacks to each of these approaches.
What Are The Risks?
Some of the potential complications that will be discussed with you during your consultation include bleeding, infection, capsular contracture (or scarring around the implant), as well as implant rupture. Changes in nipple or breast sensation may also occur. Once you are at the age where mammograms are recommended, you should let the X-ray technician know about the implants so that special views can be taken to examine as much of the breast tissue as possible. A certain percentage of the breast tissue will still not be visualized despite these additional views.
What Can I Expect?
You will be instructed to wear a supportive or sports bra during the initial 4-6 weeks after surgery. An underwire bra should be avoided during this time. You can expect some mild discomfort and soreness during the first few days after surgery. Your dressings and sutures are usually removed at one week, and massage begun in an attempt to soften the tissues. Most residual swelling and bruising usually resolve by a month. You may feel ready to return to work within a week, depending on your job. Strenuous activity and exercise should be avoided for 6 weeks.
How Long Do The Results Last?
With the exception of implant rupture or deflation, the results of your augmentation should be long-lasting. Gravity, age, as well as pregnancy can all affect the shape of your breasts. Changes in life stages usually dictate a woman's decision to change the shape of her breasts, not the implants themselves.
Breast augmentation enhances not only the size and shape of your breasts, but your self- confidence as well. Some women find it easier to wear certain clothing as their body may be more proportionate. You will have several follow-up appointments after surgery. Your experience and relationship with our practice continues so that all of your questions and concerns may be addressed.