Am I A Candidate?
This procedure is best suited for those people who are relatively normal in weight but have isolated pockets of excess fatty deposits that give the body a disproportionate appearance. These areas can be inherited in certain circumstances, and do not respond to diet or exercise. Liposuction may be the only way to treat these areas. The best results are obtained if your skin still has enough elasticity. Liposuction can be performed in just about any area with excess fatty deposits. This procedure, however, should not be treated as a substitute for weight loss, nor does it effectively treat cellulite.
Although it seems like just about everyone is trying to perform liposuction these days, it is critical that prospective patients seek the help of plastic surgeons who are board-certified by the American Board of Plastic Surgery. These procedures are surgical in nature, and inherently carry risks and potential complications. We strongly believe that physicians should only perform procedures on patients if they can handle, treat, and correct the complications involved.
Certain "cosmetic" boards and "body part or procedure" societies usually translate into the following: 'I'm not a plastic surgeon, but I want you to think I am." At the Lee Institute of Plastic Surgery, we consistently see patients with poor results, complications, or deformities created at the hands of non-plastic surgeons. These same patients all report that they never knew that their physician was not a fully trained plastic surgeon.
How Is Surgery Performed?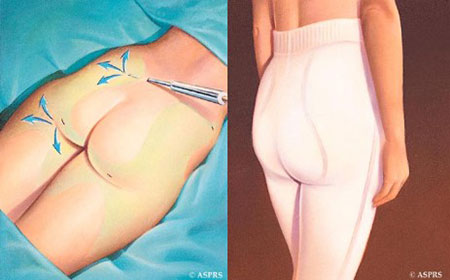 Fat is removed by cannulas of various sizes that are inserted through small incisions that are placed in inconspicuous areas such as skin folds or contour lines. A "tumescent" technique is first utilized where fluid containing both local anesthetic and epinephrine, to minimize blood loss, is introduced into the fatty areas. Thin cannulas are then used to contour the body. These areas include but are not limited to the abdomen and waistline, bra line, back, the upper arms, the hips and thighs, the inner knees, as well as the neck.
What Are The Risks?
There are fortunately very few instances of significant complications. Liposuction is the most commonly performed aesthetic surgical procedure, and thousands of patients undergo this procedure without any major problems. Potential complications that will be discussed at your consultation include bleeding, infection, reactions to anesthesia, and contour deformities. Additional surgery may be necessary to correct these problems. These risks can be minimized by following instructions that will be given to you before and after surgery.
What Can I Expect?
Your initial discomfort will be controlled with prescribed medications. A compression garment is worn and kept on 24 hours a day for the first week after surgery. You can remove it thereafter to wash it, but it must be worn as much as possible again for the next 5 weeks.
You will need to start walking soon after surgery, but strenuous exercise and lifting is restricted for up to 6 weeks. You can resume most of your normal activities within 1 to 2 weeks. You can expect swelling and bruising which may last up to several weeks. There may also be areas of temporary numbness. Stitches are usually removed after a week.
How Long Do The Results Last?
The fat that is removed will never come back, but the fat that remains can become larger if your diet and exercise do not improve. However, a small amount of weight gain may be more evenly distributed. The healing process is gradual, and fluid retention may take up to a few months to resolve completely before you obtain a stable result.
Touch-up liposuction may sometimes be recommended and occasionally performed under local anesthesia alone. Follow-ups are important, and we will be with you every step of the way so that all of your questions and concerns can be addressed during your recovery.