Am I A Candidate?
Droopy or low eyebrow positions can create a sad or tired look. Deep creases across the forehead as well as frown lines between the eyebrows or at the top of the nose are also problems that a forehead or browlift can improve. Often, the heaviness of the upper eyelids can be diminished with this procedure as well.
How Is Surgery Performed?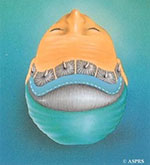 An incision is usually made in the scalp from the top of one ear to the other one. Through this incision, which is hidden within the hair, the muscles responsible for wrinkles and frown lines can be removed or altered. Excess skin is also removed and your eyebrows lifted to a more aesthetic position. A variation of this technique utilizes an endoscope/camera that is inserted into a few small incisions in the scalp. The camera allows the surgeon to work with special instruments placed through the other incisions in order to work on the muscles. Tiny screws are used to keep the forehead in place for two weeks.
What Are The Risks Involved?
Fortunately, significant complications from forehead lifts are rare. Some of the complications that have been reported to occur include bruising, alopecia (hair loss) around the incision, hematoma (accumulation of blood underneath the skin, and loss of sensation about the forehead. These risks can be minimized by following the instructions that will be given to you before and after surgery.
What Can I Expect?
Recovery can vary among individuals. During the first few days after surgery, you must keep your head elevated. Your initial discomfort can be controlled with oral medication, but remember not to take aspirin or other anti-inflammatories. You should not smoke or be exposed to cigarette smoke following your procedure. Temporary swelling and discoloration may involve the cheeks as well as the eyelids. The puffiness and bruising usually resolve by two weeks, and camouflage make-up can be used soon after surgery. Temporary numbness and itching of the scalp can be expected. Dressings are removed within a couple of days, and sutures or clips are taken out around two weeks after surgery.
Straining and heavy exercise should be avoided for the first 6 weeks. You can usually resume your normal activities within 10 days. Sunblock and avoidance of direct sunlight are also advised.
How Long Do The Results Last?
Your genes and lifestyle, in addition to surgical technique, are components that determine how long your results will last. Although you continue to age, patients are usually pleased with their appearance for many years following a forehead or browlift. Some patients may choose to make additional improvements at a later time.
Overall, the procedure improves the tired, angry, or worried expression that results from low-lying eyebrows and deep forehead wrinkles. Because the healing process is a gradual one, you can expect stable results at about 6 weeks. A forehead lift is often performed in conjunction with other procedures (such as a facelift or eyelid surgery) to rejuvenate the face as a whole in order to accomplish facial harmony.
You will return to Dr. Lee's office at prescribed intervals for follow-up. Your relationship continues with our practice so that all of your ongoing questions and concerns can be addressed during your recovery.