Posted April 11, 2018 in Breast Augmentation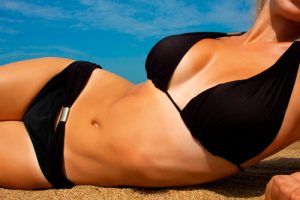 Knowing when to schedule your breast augmentation can be tricky. The recovery timeline after surgery depends on the patient. However, giving yourself enough time beyond the expected recovery period can ensure you have the results you want when you want them. Most breast augmentation patients are excited to wear new tops that highlight their enhancements, so having surgery during colder months and being fully healed by summer is often desirable. Some of the main reasons why women should undergo breast augmentation in the winter and spring are listed below.
Optimizing Comfort
Wearing post-surgery bandages and compression garments during warmer months can be very uncomfortable. Immediately following your breast augmentation, and for at least one week, you will be wrapped in surgical dressings. For several weeks after your breast procedure, you will have to wear a supportive or sports bra. Undergoing breast augmentation when it is cold outside makes it easier to relax and bundle up while you recover.
Maintaining Hydration
One of the most important things to do during recovery from any major surgery is to stay hydrated. Hydration helps the body heal, and it is much harder to retain those precious fluids during hotter seasons. Opting for breast augmentation in the winter and spring means you will likely sweat less, so your body does not run the risk of dehydration.
Bikini-Ready Body by Summer
The term "bikini-ready" means having a gorgeous body that is fit for the beach or poolside. Recovery after breast augmentation can last up to six weeks, but it may take a couple of months for the breasts to settle into their final shape. Making sure your beautiful new breasts are fully healed and settled by summertime is ideal for showing off your curvaceous figure.
For more information about breast enhancement surgery, or to schedule your breast augmentation consultation with Dr. Richard Lee, please call (916) 780-5477.